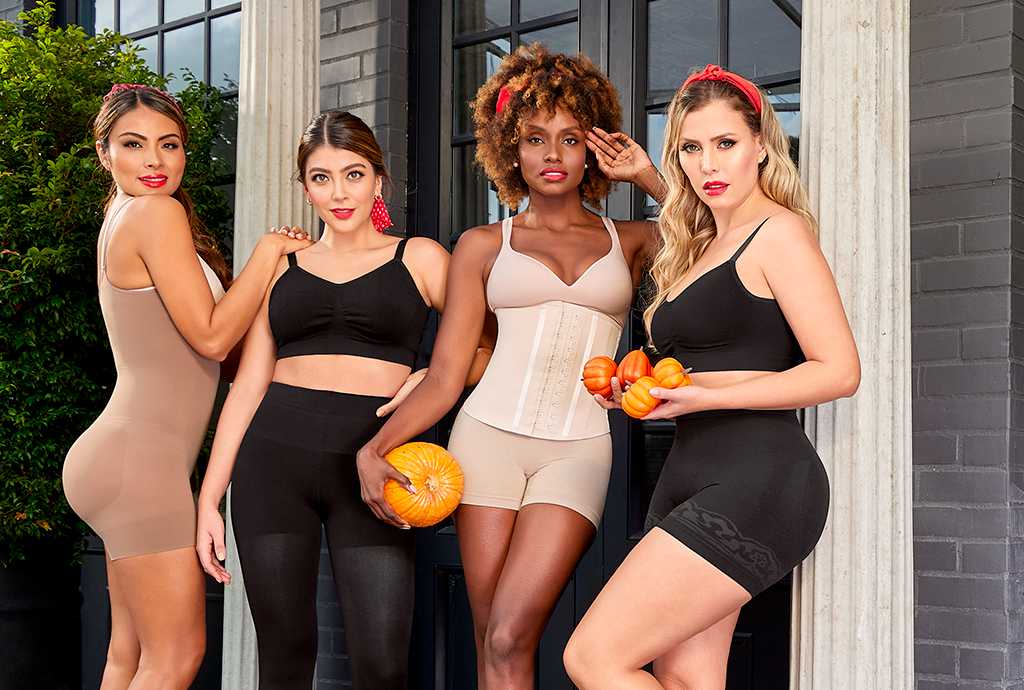 Benefit from our spectacular Halloween sale!
Halloween is coming! And you want to enjoy and look gorgeous at this fantastic party, don't you?
Yes, of course! But how to do it right in my case?
Whatever Halloween clothing you want to wear to this party, a beautiful garment for a trick-or-treat walk or a fun costume partying all night, you will look better with shapewear for women. The proper shapewear will allow you to look elegant, confident and, if you want, very sexy!
But don't let the Halloween holiday sneak up on you! At Curveez, the Halloween sale comes with spooky discounts…
Up to 80% off in selected styles!
In this Curveez Halloween sale you'll be bewitched by so many savings!
Shapewear for any Halloween clothing and personal needs
As an inclusive brand, Curveez shapewear caters to each sex and all body types and sizes, from XS to 5XL. Also offers a variety of styles for every occasion. At Curveez, you have everything you need to look and feel good.
 Whether you need plus size shapewear to perfectly model your figure. Or regular shapewear to show off that hourglass silhouette so attractive and sexy, Curveez will give you a confidence boost under your Halloween clothes.
 Even if your doctor allows it, enjoy Halloween after surgery with our healthy post-surgery shapewear.
 Either you want to wear a cute Halloween costume and look attractive and sexy. Or you may not want to dress up but look superb in your new party dress or the one you already have in your closet. In both, Curveez shapewear will be your best friend!
In any case, Halloween can be the perfect excuse to get that shape you have been wanting for a long, long time!
Celebrate your shape with Curveez on this Halloween sale!
Find the shapewear that perfectly fits you in our e-shop by product type, size, color, and price. And see how attractive you can look!
Why choose the Halloween sale at Curveez?
Curveez styles are a perfect blend of … 
Fashion + Health + Wellness + Comfort
All are designed to promote your health and well-being, model your figure, enhance your beauty, feel good, and look amazing for yourself and your friends.
 And this is achievable simply because...
Curveez is high-quality shapewear for women with the most advanced and innovative technology in today's market.
Yes, that's how it is! Let's see some examples of our products and the outstanding features in-built into them.
High Waist Contour Short H-Evolution
To achieve that "hourglass" figure you've always wanted!
This shapewear makes it possible thanks to its advanced design and high-quality fabric. It can be used for any occasion to highlight that dreamy shape or even during the post-surgery recovery process.
This short provides ultra-firm compression while the fabric is still soft on even the most sensitive skin.
The lace trim detail at the top and bottom is reinforced with silicone to help the garment stay in place and makes it virtually undetectable for a shaping garment of this high level of compression. The zipper closure will secure the garment so you can move freely without worrying about losing its shape.
Also controls and flattens the abdomen with a double layer of Powernet and reduces up to two waist sizes.
And stays in place with rods at the top and silicone trims on the legs.
Full Body Long Shapewear
Perfect undergarments for special occasions such as parties or a special date night!
With its ultra-firm compression with adjustable three-position frontal closure to ensure maximum comfort and support, it will conceal imperfections while supporting and smoothing your thighs, enhancing your buttocks, and refining your waist, abdomen, and back with adjustable straps.
And its open-bust design allows you to wear your favorite bra.
Made with Powernet outer layer and internally lined for maximum softness and cleanliness with our exclusive Trim Shape fabric. It is infused with microcapsules of natural nutrients of Vitamin E, Seaweed, Ginkgo Biloba, and Cosmacol EMI, which feels soft and moisturizes, tones, and cares your skin, for even the most sensitive ones.
Open Bust Arm Shaper
To say goodbye to arm jiggles!
Designed with superior comfort and firm compression, it will not only shape and smooth your upper arm but also helps to correct your posture with its reinforced criss-cross design on the back. Made with bi-directional microfiber fabric that stretches to hug your arms snuggly.
Designed with anti-bacterial properties within the yarns, so you always feel fresh and comfortable.
They are wonderfully lightweight and are made with flat seams for virtual invisibility under your regular clothing. Open-bust arm shapewear allows you to wear your favorite bra.
And many others styles with innovative technology and valuable benefits in our shapewear for women… without extra costs!
Choose the shapewear that fits your body and needs in our e-shop!
And even more: your purchase… easy, fast, and safe!
Pay in 4 payments interest-free!
Free shipping over $60!
Free exchanges and hassle-free returns!
And have a happy Halloween!
Our sincere wish.
Halloween bonus from Curveez!
Do you want to have some ideas on how to get your Halloween costume easy and cheap but still fun and fashionable?
Find exciting suggestions of Halloween Costumes to look good and… surprise others!
FAQs about Curveez ordering, shipping and tracking process
What are the available shipping options for my country?